"Do you, Nya, D-D-Dilara, t-t-take him as your husband? To make him all-powerful, freed from the restrictions of love, harm, and added wishes, so sayeth Djinn law?"
— Clancee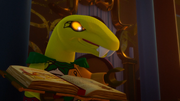 Djinn Law is the law of that the Djinn are supposed to follow, with different rules for different laws.
Laws
Marriage
The one marrying the Djinn must make him/her all-powerful, freed from the restrictions of love, harm, and added wishes.
History
Trivia
Gallery
Promotional Media
Screenshots
Community content is available under
CC-BY-SA
unless otherwise noted.