Ninja vehicles are vehicles used by the ninja to counter the forces of evil.
Ninja Dragons
The Ninja used Dragons to encounter the forces of evil.
The Destiny's Bounty was the ninja's ship and their long-time headquarters. It eventually gained flight capabilities, but it was destroyed by the Great Devourer and Garmadon recreated it into the Black Bounty using the power of the Mega Weapon. There are currently 12 versions of the Destiny's Bounty.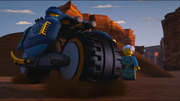 Trivia
Gallery
Promotional media
Screenshots