"When you drive away in secret, you'll be a volunteer. So don't scream when we take you, the world is quiet here."
— One of V.F.D.'s poems
The Volunteer Fire Department (abbreviated VFD) was a secret international fire-fighting defense agency founded by Ishmael and led by Jacques Snicket that fought or started fires around the world.
Associated Families
Members
Fire-Fighters
*Members of VFD's FBI
*The members of the fire-starting side were once on the fire-fighting side, before the Schism during one of the La Forza del Destino plays.
Commanders

Sinister Duo

Man with a Beard but No Hair

Woman with Hair but No Beard

Leaders
Members
Former members
*Members of VFD's FBI
Allies
Maya Potter

Sebastian Potter
Artifacts owned
Chronos Sapphire

Sugar Bowl

(Vessel For Disaccharides)
Codes
Disguises
Main article:

Various Fakery Disguises
Bases of operations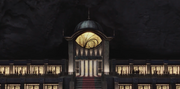 The headquarters in the Valley of the Four Drafts is the main headquarters for V.F.D.
Anwhistle Aquatics
Anwhistle Aquatics serves as a marine research center for V.F.D.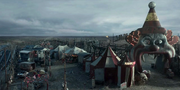 Caligari Carnival serves as V.F.D.'s main carnival and one of their entertainment centers.
Flacutono Industries is a factory in the western United States in which fire-starting side of V.F.D. creates supplies needed to harm enemies.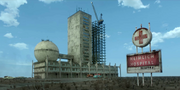 Heimlich Hospital serves as V.F.D.'s main hospital.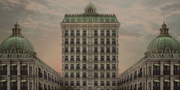 The Hotel Denouement serves as V.F.D.'s FBI headquarters.
Temple of Doom
History
Schism
Main article:

The Schism
Masked Ball
Main article: V.F.D. Masked Ball
Notes
The

VFD insignia

is an eye.
Gallery
Promotional media
Screenshots