"Do you think it's true one of our parents survived the fire?"

This topic may be canon, but its canonicity is unconfirmed.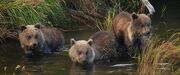 Wildlife is the native fauna and flora of a region, and is very diverse.
Flora
Fauna
Aerial Creatures
Land Creatures

Dinosaurs
Goats
Insects
Spiders
Wasps
Worms

Marine Creatures

Eels
Fish
Kelp
Starfish
Turtles
History
Trivia
Most creatures in other realms have strange and unique abilities.
Gallery
Promotional Media
Screenshots