"Oh, such a pity. You truly have forgotten. You're unwell, my Lord, but do not fear. I will take care of you. It is my sworn duty."
"Your duty?"
"You are the Ice Emperor, the ruler of this realm."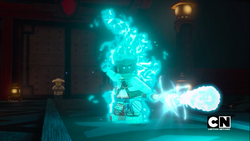 Forbidden Zane is the Forbidden version of Zane, using Forbidden Spinjitzu's Ice Scroll. Eventually in this version, he became the Ice Emperor.
History
Trivia
Gallery